► Features & Benefits:

1.HDMI 2.0 F.series pure fiber optical cable, 32Gbps, Power consumption ≦ 750mW.
Support 4096*2160@60hz,4:4:4,12 Bit,3D,HDCP2.2\1.4, HDR.Unsupported Ethernet and ARC.
2.Technical scheme of optical system with microlens array.
3.Using optical transmission technology, using fiber6 OM3 pure optical cable, without installing driver, the compatibility is excellent.
4.The cable need external power supply, the two ends of cable Display / Source each with a 25cm USB interface wire, they are the external power supply interface, Two USB
sockets must be powered.
5.The photoelectric module is encapsulated in a metal fully shielded inner shell, which is strongly resistant with EMI and RFI .10m-300 meters.
6.HDMI plugs are made of PVC exterior moulding, with general installation mark such as "TX/RX", "Source/Display". The products are directional and can not be installed incorrectly.
7.Optical fibers use bending-resistant optical fiber with strong flexibility of cables; the imported TPE materials are used.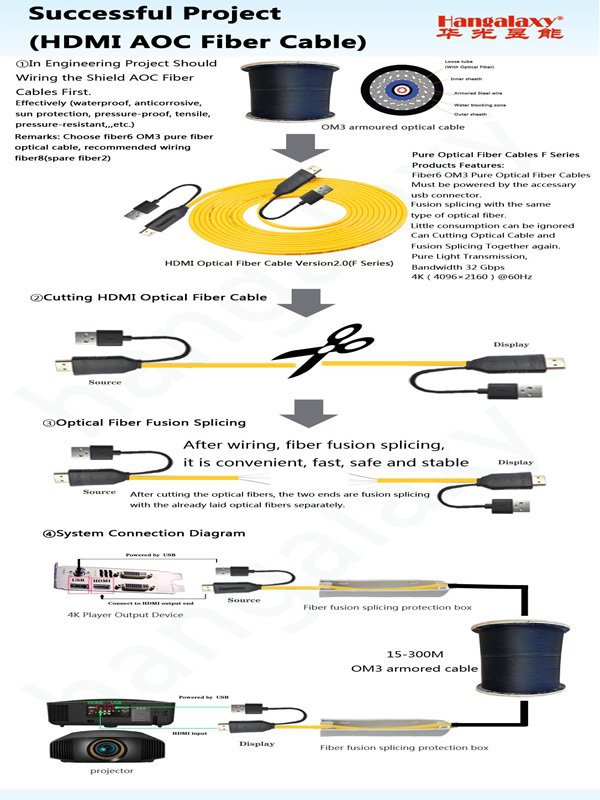 ► Hangalaxy HDMI2.0 F. Series Effectively Solves Four Technical Problems in Engineering

1.Perfect solution to the integration of high bandwidth and long-distance transmission.
2.After the cable cut off, it can be connected to the customized six-core OM3 cable. The optical fiber must be fused one to one.
3.The system is highly integrated, reduces linking devices and interfaces, and has good stability of transmission links.
4.The cableis strongly resistant with EMI and RFI ,it is not afraid of wiring with strong electricity wire.