Boao Forum for Asia uses Hangalaxy fiber AOC
Time :2018-05-26 10:19Author :Hangalaxy
A magnificent music and water holograpy show was presented during Boao Asia Forum 2018. It was a wonderful performance. Behind this beautiful and amazing holograpy show, Shenzhen Hangalaxy Technology Co.,Ltd supply the optic fiber HDMI transmission system to make sure the high definition audio and video signal. Hangalaxy are proud of presentation and application of new technology in such a big show.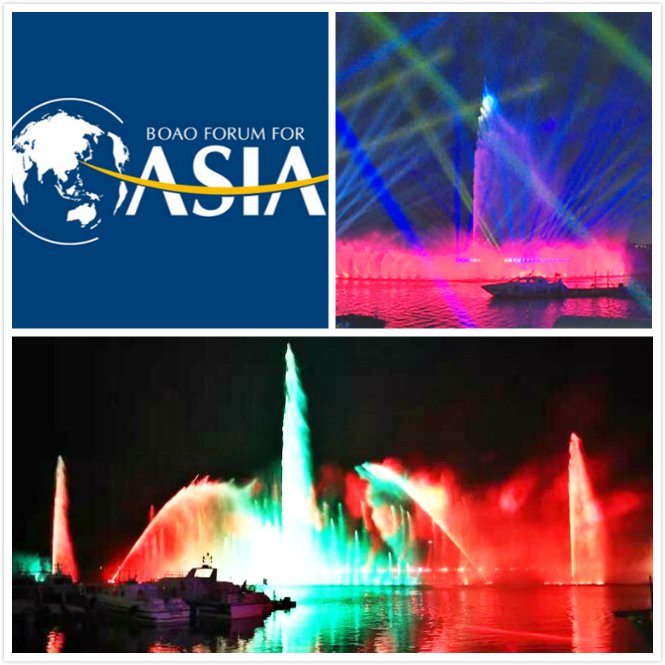 From April 8th to 11th, the Boao forum for Asia Conference 2018 was held in Boao, Hainan Province, China. The lighting holograpy of the Boao Forum tells the theme of Boao story, On the 1500 cubic meter of water curtain, it adopts 8pcs 25000 lumen projectors and 8 pcs laser machines, present fancy fountain, stage music lighting and multiple projection techniques.
The infrastructure environment of the Boao is complex and challenging. There are two reasons: one is Hainan's region and the special climate, not only the sea, the wind, but also the high temperature and high humidity; the other is the large scale of the engineering scale and the construction time is urgent.

Based on Hangalaxy many years professional experience of optical fiber HDMI transmission system, finally the lighting show is very successful. It perfectly works on 4k (4096X2160) at 60Hz,4:4:4 without equalizer, ultra HD high speed, error free data transmission, zero attenuation, no delay, no signal loss in high noise environment, water resistance, high temperature resistance. The ultra high definition transmission makes sure much more clear and comfortable on audio and video system than copper or even standard optical HDMI cable. All attendance gives very high comments on the highest quality. At the end of conference, the project manager thanks Hangalaxy to provide them with very high efficiency transmission cable, as it is saved a lot of time and cost for them. It is a big success. For video details, Pls check the link below. Thank you.
Https://v.qq.com/x/page/c0665ntlp8z.html