► Features & Benefits:



● Long distance transmission, over 300 meters;
● Single channel DVI interface, support up to 10.2Gbps bandwidth;
● Program and store monitor's EDID information inside of source connector;
● No external power needed;
● Thinner, lighter and softer than conventional copper cable;
● No radiation, and highly resistant with EMI.
1. In engineering project should wiring the shield AOC Fiber Cables first.
Effectively (Waterproof, anticorrosive, sun protection, pressure-proof, tensile, pressure-resistant, ect. Remarks: Choose fiber for OM1 pure fiber optical cable, recommended wiring fiber)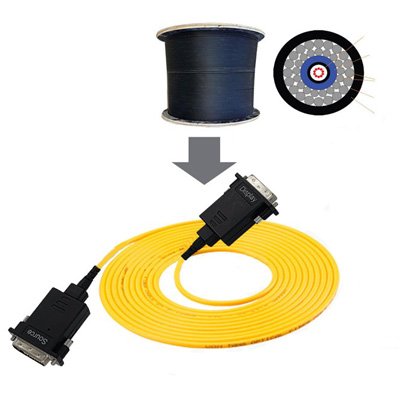 ►
DVI Pure Optical Fiber Cables Series Products Features:
Fiber 4 OM1 Pure Optical Fiber Cables Must be powered by the Micro USB.
Welding with the same type of optical fiber.
Little consumption can be ignored can cutting optical cable and rewelding together bandwidth 10.2Gbps.